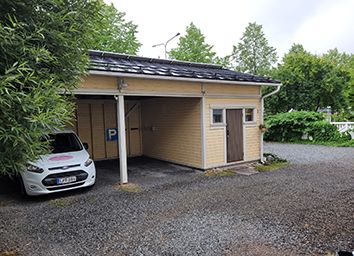 Parking space
Booking parking spaces in advance costs 15 €. Please notify us of this while booking a room. Nearby parking spaces are chargeable and time limited (chargeable from 8AM-6PM and on Saturday 8AM-4PM, parking cost 2,00 €/h.)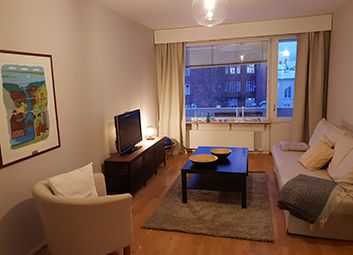 Two-room flat - Churchill
In addition to our six rooms, we also rent beautifully furnished two-room-flat in the heart of Hämeenlinna. The flat is usually rented for prolonged, more than a week use. The flat has three beds, one sofa-bed and one extra bed. The flat also contains a kitchen, a bathroom, a balcony, and everything for daily living needs. The rent also always includes clean-up.
Matin and Maija -cottage
Since the summer of 2020 we also provide quality summer cottage in Tuulonen (35 min drive from Hämeenlinna). The cottage has six sleeping places and, in its wholeness, includes a kitchen, a bathroom, incineration toilet, a fireplace, an air-source heat pump, a sleeping loft for two, a gazebo, a sleeping shed for two, a sauna, a hot tub and a wooden outhouse. The cottage has first-rate equipment, linen bedsheets, and eiderdowns, just like our Bed and Breakfast. You can find the cottage on Facebook as Matin ja Maijan Mökki. During summer months we only rent whole weeks Mon-Sun, and outside of the season shorter periods starting from 2 days.